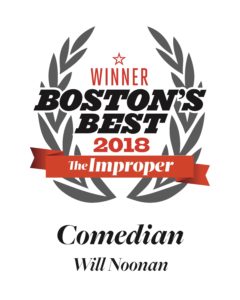 Will was named "Boston's Best Comedian" by The Improper Bostonian magazine, is sometimes known as "The Honda Guy" for his current job as spokesman in Honda commercials on TV and radio all over New England, and as well as for his fan favorite role in the Netflix movie The Sleepover.
He is well known for his internet presence. His Twitter account @willnoonan has over 16K in followership (including notable followers like Barack Obama, Joe Rogan, Jim Gaffigan, Bert Kreischer & Andrew Schulz. Also his jokes, memes and standupshots continue to attract millions of views on sites such as Reddit, Imgur, and The Chive.
Will has been the opening act for Bill Burr. He has appeared on The Oddball Comedy Festival with Amy Schumer, Hannibal Buress, and Sarah Silverman, told a story on NPR's "This American Life" and was named Comedy Ambassador and Moment Maker by Microsoft.
He has appeared on MTV's "Ridiculousness", "Laughs" on FOX, "Gotham Comedy Live" on HULU and his comedy is played often on Sirius XM.
As an author, his columns and poems have received national attention.
Extended Biography
In Europe he is known for his acting in the beloved Katie Fforde film series which airs in Germany, Spain and France on PBS.  He's also starred in commercials for Staples, Ocean Spray, and LastPass among hundreds of others.  He is a proud regular on "The Anthony Cumia Show" with former Opie & Anthony Show host Anthony Cumia.
Will is the co-creator and c0-host of the popular YouTube show "The Noonan Show" and the iTunes charting podcast "High Pathetically with Will Noonan" which is always available for free on iTunes, Stitcher, & willnoonan.com.
Will's awesome. He's a funny Irish bastard and a made man in comedy.
I hope to work with Will again soon. He's the real deal. Pro comic who will be a national headliner soon.
Looking every inch the affable Irish Catholic boy with bedhead – it's hard not to love this local's wry and never too acidic humor.
Will Noonan CRUSHED it! #oddball
I've had the pleasure to work with Will a few times and he really 'brings it' on stage. I love his material and his CD really shows off his skills.
Boston's Best Young Comedian
Noonan blends introspection with topical humor and a critical flair hyper-stimulated millennials can relate to.
I'm not just a fan of Will after hearing this; I'm genuinely pulling for him like I would family. I want him to become the next huge star in the comedy world.
He possesses the delivery and confidence of a veteran club comic.
Boston upcoming comedian Will Noonan is very funny and clever and original.
Combine the stand-up show, the Reddit posts, the Twitter, the Instagram, and you get the Will Noonan Brand.
Will Noonan was absolutely hilarious. He was full of energy and kept the crowd laughing and attentive. His jokes were brought up in conversation between me and my friends for several days after the show. I'd definitely love to see him again.
Will stole the show. His relaxed, casual manner on stage made the audience feel like they were just hanging out with their funniest friend. He was very relatable to a college crowd, and had everyone in tears for the majority of the show. Combined with some audience participation , it was the perfect set to finish off a night of comedy.
Other Places Will Noonan Has Spread Joy:
The Hartford Funnybone CT
Mohegan Sun Resort and Casino CT
Foxwoods Resort and Casino CT
Twin River Casino RI
Orpheum Theater Foxboro MA
Mottley's Comedy Club MA
Dick's Beantown Comedy Vault MA
Plymouth Memorial Hall
The Laugh Lounge NYC
Wisecracks Comedy Clubs MA
The Mezzo Comedy Club CT
Jokers Wild CT
Levity Live NY
Brew Ha Ha Comedy Club CT
City Steam Brewery
Fitchburg State College
University Of Rhode Island
Becker College
and many more….